DigitalSafe is the premier provider in American built wall and vault safes for closets. Our commitment to quality extends beyond just great craftsmanship but also in providing the very best in customer service. We provide 24-hour support 7 days a week. Just ask the following list of satisfied customers:
[one-third-first]Steve Rosdal/Michael Pollak
Hyde Park Jewelers
Niki Englert
All Closets
John Ritchie
The Closet Pros
Eddie Miller
Architecture & Home
Chris Cardiff
Birch Street Development
Jeff Kaman
Chaparral Homes
Alicia Ragsdale
After Paint
Ed Venerable
Paragon Homes, Inc
Jeff Bruzzesi
Closet Factory
Virginia Beach
Michael Guggenheim
Westport Development
John Potrykus
Knight Security, Inc.[/one-third-first]
[one-third]Mark Lestikow
Closet Factory Denver
Katherine La Barbara
Closet Factory, LA
Marty Wehr
Closet & Storage Concepts, Denver
Jeff Whiton
US Homes
Ray Suppa/ Paul Stann
Clayton Lane
Larry Fullerton
St. Lukes Lofts
Ted Scherrer
Scherrer Construction Inc.
303-730-6200
Jordan Jackson
Security Central, Inc.
Scott Carter
NuWest Custom Homes
Mary Lou Grotewold
Interiors By ML
Ken Alexander
Benedittini Cabinetry[/one-third]
[one-third]Paul Stann
Studio Becker
Mark Smith
East West Partners
Paul Kobey
Kobey Development
Jason Squibb
Squibb Estates
Tony Cruz
Maximum Capacity Closets
Mark Westerfield
A2Z Home Solutions
Robert Coover
Closet & Storage Concepts, North Carolina
Carl Alsbach
Closet Factory
St. Louis
Devita Bruce
Dechard Homes
Roddy Reef
R Reef Construction
Jeff Kramp
Devcor Development[/one-third]
---
[one-third-first]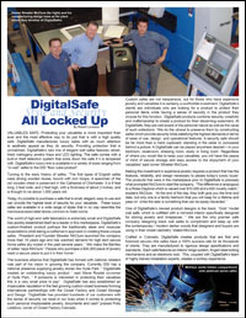 [/one-third-first]
[one-third]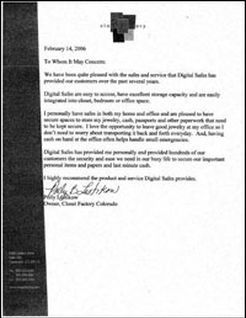 [/one-third]
[one-third]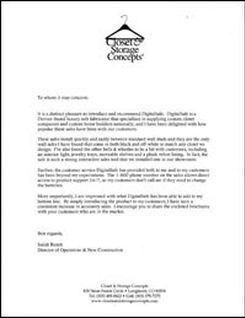 [/one-third]
---
We recommend a DigitalSafe with every jewelry sale ….Corbin Methvin, Brennans Jewelers
We wouldn't design a closet with out a DigitalSafe Tom Havashaw, Closet World
It brings a higher level of security with a touch of style Franz Walker, Architect